Statement of purpose formatting made easy. Want to impress the admissions committee and bag an interview for admission to the university of your dreams? Download our proven statement of purpose format template now to create a compelling statement of purpose that makes you stand out.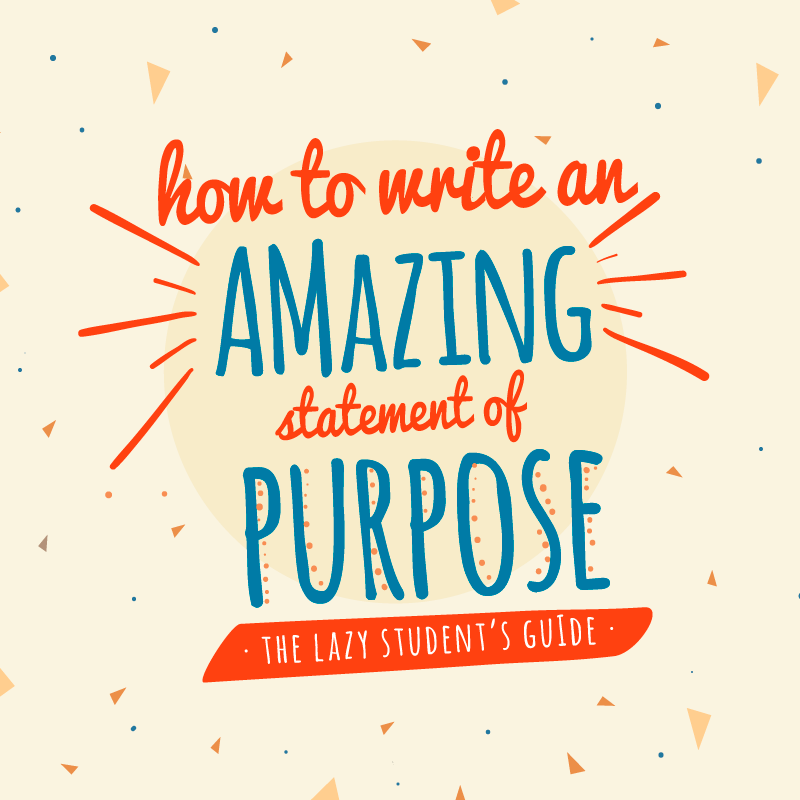 So, you're applying for grad school. The only thing that stands in your way of the next exciting step in your education is your statement of purpose.
But what format should this statement of purpose take?
If you're in search of the ideal statement of purpose format, the first thing you need to understand is that there is no single proven template in existence. Admissions officers actively seek individuality and diversity. As such, the format of your statement of purpose should be tailored to your unique situation and expectations.
So, if the reviewers are not expecting a set format, what are they looking for?
They will be seeking some very specific information about YOU.
More than that, they want to learn about your PURPOSE. Hence the name: Statement of Purpose.
The ideal statement of purpose format consists of 2-4 paragraphs that build on each other and explore a central theme in more depth through examples, facts, and data.
Not a cliché in sight.
If you're looking for a statement of purpose format that will tick all the boxes. You won't go wrong with the following:
Statement of Purpose Formatting: An Anatomy of the Perfect Statement of Purpose

Paragraph One: The Hook
An introductory paragraph that catches the reader's attention and sets the central theme for the essay.
Avoid arresting opening statements that are designed to impress… admissions tutors have seen exaggerated descriptions of a revelatory moment or lifelong desire to pursue a chosen career time and time again. And it all gets very BORING.
Learn more: How to write a statement of purpose
Phrases to avoid:
"From a young/early age I have always been interested in…"
"For as long as I can remember I have been fascinated with…"
"I am currently studying…"
"Throughout history…" or "Since the dawn of man…"
These phrases don't really say anything meaningful. They just waste words.
Take it up a notch…
Bad: "Throughout history, only two popes have resigned from their position as head of the Catholic Church."
Much better: "In what represented a nearly unprecedented and departure from papal tradition, Pope Benedict XVI shocked the world when he became the second pope to resign."
Top Tip! Present a "thesis" statement in the introduction paragraph and use this as the central strand throughout your statement of purpose. Every other paragraph should contain some form of reference to this thesis statement. The topic sentence should introduce the broad idea (your skills, experience, interest) to the reader while other paragraphs should describe HOW you learned those skills, gained relevant experience, applied your knowledge and understanding, fostered your interests, etc.
Paragraph Two: What You Want to Study and Why
Claiming you want to study something is easy; convincing the admissions committee that your interest is real and not superficial is something entirely different. Explain, in very honest terms, what you want to study, and why. Be introspective.
When they have finished reading through your statement, the admissions tutors will be asking themselves the following question:
Do I really believe that the student is excited by the thought of studying this subject at a higher level?"
Make sure the answer to that question is a resounding "Yes!".
 Phrases to avoid:
"I am passionate about xxx" (Anyone can say they are passionate about something. Don't explicitly claim to be passionate, infer your passion by describing how you've worked toward putting your passion into practice).
"I have always loved xxx" (Similar to the above. Show, don't tell).
Useful phrases:
"When I was taking special laboratory courses on solar-cell energy, I was struck by…"
"To help you understand my current goals better, I would like to explain my educational experience up to this point."
"Growing up with parents who xxx, really taught me the importance of xxx."
"My commitment to a future career as a xxx is best exemplified by xxx."
Read more: Statement of Purpose: Editing and Proofreading
Action step: Hire a professional proofreader or editor to make sure your statement of purpose is absolutely perfect: statement of purpose editing.
Our native English editors have reviewed thousands of statements of purpose and know what it takes to write an admissions essay that secures places in the top schools. Don't forget, there is a difference between a statement of purpose and a personal statement.
Order our statement of purpose editing services now and we'll help you create a statement of purpose that sets you apart from the crowd.
Paragraph Three: Provide Evidence to Support Your Claims That You Are Interested in the Subject
Again, simply saying you want to study something is not enough. You need to demonstrate that you live and breathe it.
Describe the activities and research projects you have conducted to inform yourself about your target career and describe the in-depth insights you have developed through these experiences.
Demonstrate that you have realistic expectations for your future career. It isn't so much about what you have done; it is about what you have learned in the process.
Phrases to avoid:
"I genuinely believe I'm a highly motivated person" (Show, don't tell).
"My academic performance has been impressive" (Let the admission's committee decide that for themselves).
"I have a thirst for knowledge" (clichés like this should be avoided at all costs. They are uninspiring, over used, and fail to communicate anything meaningful).
"Reflecting on my educational achievements" (Yawn!).
Useful phrases:
"This research is/was especially interesting because…"
"As well as providing practical experience in a xxx, the job also allowed me to develop skills in xxx, through xxx. I am particularly proud of my achievements in xxx…"
"An experience that I feel has had a major influence on my outlook was when I xxx. This really opened my eyes to xxx and taught me xxx."
Paragraph Four: Where You Want to Study it and Why
The admissions committee need to feel confident that you understand the course they are offering and the teaching styles you will encounter.
At this point, you need to stop focusing purely on yourself and start demonstrating that you understand the specific course you are applying for and the institution at which it is being taught.
Phrases to avoid:
"Xxx is one of the world's most renowned universities…"
"I have always wanted to study at Xxx."
"The course on offer at Xxx is the best in the world."
Useful phrases:
"My interest in studying xxx at Xxx is firmly grounded in the school's focus on xxx."
"The work that is currently being carried out by Xxx and your faculty has attracted my interest because xxx."
"My research interest in xxx is fully aligned with the research projects that are currently in process in your faculty. In particular, I am interested in the studies that are being conducted by Xxx, and feel I could contribute by xxx."
Our native English editors have reviewed thousands of statements of purpose and know what it takes to write a personal statement that secures places in the top schools.
Order our statement of purpose editing services now and we'll help you create a statement of purpose that sets you apart from the crowd.
Paragraph Five: Conclusion
Present a conclusion that widens the lens and wraps up your essay without simply summarizing the information you have already presented.
Summarize your career objectives and how the course on offer will help you move closer toward achieving those objectives.
Revisit the theme you established in the hook.
And finally…
Proofread, proofread, and proofread again.